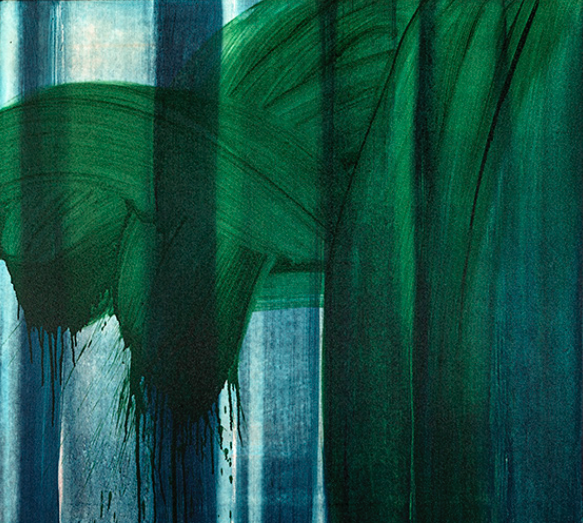 The Oldest Mountain
Gallery MOMO, Johannesburg 2018
Exhibition information
Exhibition catalogue

Time can take the shape of a mountain folded into the rolling hills that form its base, forgotten under the scars of history. On its surface the human drama is played out beneath its visual grandeur. We harvest and we preserve, understanding that it will long see days past when our own bodies have returned to stone and dust. The Oldest Mountain, Gallery MOMO's inaugural exhibition for 2018 by artist Jonathan Freemantle explores the intricate relationship between his body, time and the earth.

Freemantle's explorations and navigations in and over the Magaliesburg mountain range, one of the ten oldest mountains in the world, has led to an instinctive process of alchemy in his work. This is a painting process that sees a confluence of Freemantle's own time with that of the earths, a paradox through which the artist engages with the essence of this ancient place in our fleeting presence. Contrasting a contemporary "socio-poltical" moment performed atop the ruins of a nearby massacre, prosperity and colonial conquest with ancient ritual and a time- less gaze, Freemantle collects rocks from the mountain itself and grinds them to make the paint which forms the multi layered surface of his work. The Mountain is present in his work, in all its manifestations.

Within this pursuit of time Freemantle sees the rugged journey as a metaphorical ascent too and references the writings of Dante: The final environment of Purgatory is the Earthly Paradise on the mountain top. Dante finds there no pastoral pleasure garden, or manicured rural landscape, but a 'forest - alive with green, divine'.

In his own recount, Freemantle says, "In this arid and ancient terrain I found the most magical rivers, cutting through the landscape. The green heart. The breathing lung. An emerald snake twisting through a baked red pink mountain ridge". The paintings become an allegory of time, an a empt at recapturing the fleeting moments experienced during the ascent and descent of the mountain with each piece an expression of momentary climaxes sometimes reserved for the summit.
His Colours play on the relationship between this verdant green and the red ochre rock. Between this, visions of a paradise lost and found in the layered shape of a mountain made of time.

This body of work is an invitation on a journey to the heart of this ancient mountain. A quest to transcend time itself, to be present, to travel beyond the seduction of monolithic heights covered in shimmering green and red, past the desire of paradise and pleasure and our own inescapable curiosity of what lies beyond the paradise of purgatory and time. Beyond the oldest mountain itself.